In Memory
Margaret Gleason (Phillips)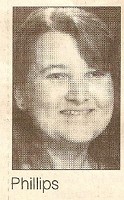 The following is the text from Margaret Gleason's obituary in the La Crosse Tribune:

Margaret A. (Gleason) Phillips, age 36, of La Crosse, died Monda, November 17, 1997 from complications after a bone marrow transplant. She was born to George B. Gleason Sr. and Colleen (Clark) Gleason on April 25, 1961 in La Crosse. Margaret attended Blessed Sacrament Grade School, graduated from Aquinas High School in 1979 and then attended Viterbo College and Western Wisconsin Technical College, graduating with an associate degree in accounting.

In March, 1982, Margaret married James F. Phillips and they had a son, Adam, on August 31, 1984. They were later divorced.

Margaret is survived by her son, Adam, age 13; her mother, Colleen Gleason of La Crosse; a sister, Mary Gleason (Scott Miller) of Sparta; three brothers, Jay Gleason (his sister's bone marrow donor) (Chris Burg) and children, Emma, Jessie, Eva and Eli of Spring Grove, Minn., Paul Gleason (Gaye Tylka) and children, Joe, Ben and Ann of Onalaska, and George B. Gleason Jr. of La Crosse; two aunts, Kathryn Brennan and Jeanne Fogel, and one uncle, Jack Gleason, all of La Crosse; and many cousins and friends, including her godmother, Margaret May Alland of Odessa, Fla.

She was preceded in death by her father on August 5, 1994; her brother, Gary on February 7, 1995; her maternal grandparents, J. Guy and Mildred Clark; her paternal grandparents, J. Francis and Cecilia Gleason; one aunt, Dorothy Gleason; and her godfather, William Brennan.

A Mass of Christian Burial will be held Friday at 11 a.m. at Blessed Sacrament Catholic Church. Reverend Bernard McGarty will officiate, with burial in the Catholic Cemetery at a later date.

Friends may call at the Blaschke Funeral Home, 401 West Ave. So., La Crosse, on Thursday from 5:30 to 7:30 p.m., with a prayer service to be at 6 p.m. Friends may also call on Friday at the funeral home, after 10 a.m.

In lieu of flowers, memorials may be made to a trust fund for Margaret's son, Adam.